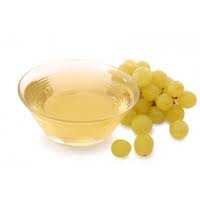 Grape Seed Oil is commonly used as the primary ingredient in commercial skin care products.
Also, it has been used down through the ages as a beauty and cleansing agent for the hair and body.
Grape seed oil can be used in skin care products, in the treatment of acne, to help prevent again, in soap making and more.
Instead of putting potentially harmful chemicals on your skin, you can try this natural substance for your skin care needs.



Grape Seed Oil Skin Care
Grape seeds contain many enzymes, and each of these enzymes have a specific health benefit.
The primary active ingredient in grape seed is oligomeric proanthocyanidin.
This ingredient has antioxidants and antihistamine properties.  Grape seeds also have vitamin E, flavonoids, and linoleic acid.
The linoleic acid in grape seed oil helps to protect the skins cell membranes particular the collagen and elastin.  Linoleic acid functions as an emollient that smooths your skin and fills in the spaces between the skin cells.




Acne
The antioxidants, antihistamine and vitamins and acids in Grape seed oil help to get rid of acne and help to prevent new breakouts from forming, the emollients help to clear up your skin and the antioxidants also aid in neutralizing the free radicals in your body.  This can have an effect on your acne helping to prevent it.
Moisturizing
Grape seed oil is not a heavy oil; heavy oils tend to leave a greasy residue on your face, where this oil will not.  It has great hydration properties and will not clog your pores.  This oil is particularly good for people with sensitive skin.



Prevent Aging
We are all looking for something to help prevent aging.
I think it will happen regardless, but there are oils that can help keep our skin looking more youthful and grape seed oil is one of them.
The hydrating properties help your skin look and feel better.
Apply some of this oil every day and you should see some reduction in the appearance of wrinkles on your face.
Grape seed oil is also said to help reduce scars and dark circles around your eyes.
Since this oil is an all-natural substance, you can use it daily for your skin care needs, you don't need to use very much just a few drops will do. You don't have to mix grape seed oil with anything else, you can use it straight from the bottle.
When rubbed on the skin this oil will absorb quickly without leaving any residue.




Making Soap
Grape seed oil is often used as a massage oil and is a great addition to recipes to make soap.  It makes a soft soap with a rich later.
For soap making, grape seed oil should be used in conjunction with other oils such as Olive, Coconut and Palm.  You should never use more than 15 % Grape seed oil or you may end up with a very soft soap.
Here is a soap recipe that includes Grape seed Oil – Green Mint Tea – Soap Recipe
We have seen that grape seed oil is an overall healthy and useful treatment for your skin.  It is rich in the kinds of nutrients that can revitalize your skin and treat problems like acne.  Even though the substance is an oil it goes on clean and leaves no filmy residue.  Not matter what age you are, grape seed oil is a healthy alternative to creams and lotions that contain potentially harmful agents.
© 2016 – 2018, Tes. All rights reserved.