Easy Bath Salt Recipes

I would like to share with you some of the bath products recipes I have been using and making myself.  Learn how to make a bath salt to soak in the tub relieving sore, achy muscles.
Making your own skin care products allows you to create your own inspired blend.  Be sure to record the amounts you add……because that one you forget to may be the perfect one!
The bath salt recipe I use the most is:
This recipe makes 4 cups of bath salts.
Epsom salts are good to add to your bath salt recipe as they are known to contain minerals that help to relieve sore muscles as well as help to reduce stress, remove toxins and relax your body.

Ultra Epsom Premium Epsom Salt, Extra Fine – 5 lb Bag
Dead sea salt is full of incredible minerals, this salt will have it's own page later on.  The minerals from Dead sea salt have been said to help with skin conditions and stimulate the blood circulation.

Minera Dead Sea Salt, 5lbs Coarse. 100% Pure and Certified. Natural Treatment For Psoriasis, Eczema, Acne And More

The many minerals in Sea Salts act as a detoxifier, moisturizer and like when you go to the dentist and after a dental procedure they tell you to rinse with salt water – well the same antibacterial effects work on your skin when you soak in a bath with added bath salts.
If you want to experiment and add other things to your bath salt like scent etc.
Be creative, split your bath salt recipe in half and try a couple of the following additions:


Cocoa Butter (453 g), Certified Organic Bar, Raw Unrefined, Non-Deodorized, Rich In Antioxidants Great For DIY Recipes, Lip Balms, Lotions, Creams, Stretch Marks by Mary Tylor Naturals
Just add the one of the following to two cups of bath salt:
Lavender Bath Salt
To create a nice r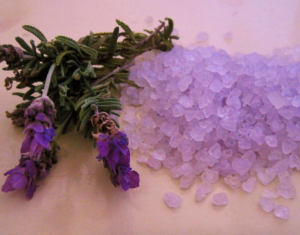 elaxing Lavender Bath Salt
Mix the following:
or maybe you'd like to try a…..
Rose Scented Bath Salts
Play with the recipes and make your own wonderful bath salts.
You don't have to use the exact measurement for the salts.
To make any 2 cups of bath salts you can add any combination of Epsom Salts, solar, celtic, sea, bali, or hawaiian salt.
Some salts have a color and mixing them with the epsom salts makes a nice looking bath salt.  Great for gifts.
The package below has a great mixture of sea salts to try out or add to your recipe for color

Sea Salt Shack Classic Variety 4 Pack | Himalayan Pink Crystal Salt, French Grey Sea Salt, Red Alaea Hawaiian Sea Salt, Black Lava Hawaiian Sea Salt (2oz Each)
#handmadesoap #naturalsoap #makingsoapnaturally #soapmaking #soapmaking #soaps #artisansoap #bathandbody #cpsoap #coldprocesssoap #etsy #soapbase #soapcrafter #soapmaker #soaping #soapcrafting #soaphandmade #soap #giftidea #christmas #barsoap #handmadesoap #natural #organic #skincare #coldprocess #soapsupplies #bathsalt #bathsaltrecipes
© 2019 – 2023, Tes. All rights reserved.