The top three soap making books
The selection of soap making books are the market are many, I have a few books; but the following are the ones I like the best, some books are just so good you keep them around forever.  I have these three books and the pages are soaked with oil and warn out from much use over the years.
Top Soap Making Books
I don't pick them up as often anymore, but will always hold on to them.
Soap Naturally is a book I own and treasure, this book is written by Patrizia Garzena and Marina Tadiello. It contains just about everything a person needs to know when getting into the soap making business.
Two other books that I really like are booth written by Susan Miller Cavitch.   She first wrote "The Natural Soap Book" and then later "The Soapmaker's Companion"  Both are excellent books to have in any soapmakers library.
Soap Naturally : Ingredients, Methods and Recipes for Natural Handmade Soap by Patrizia Garzena (2004-05-03)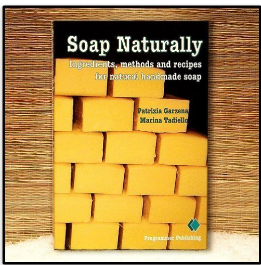 This 316 page book contains:
History of soap
Industrial and Natural soap
Sodium and Potassium Hydroxides
Bulk Oils
Superfatting
Infused Oils
Storage and Shelf Life of Oils
Essences from Essential Oils to Fragrance Oils
Coloring soap with Plants, minerals and synthetic colors
Adding Live Additives such as Aloe Vera juice, Seaweed and Silk fibres
Natural Anti-oxidants and preservatives
Step by Step instructions on making soap the Cold Process and Hot Process way
Rebatching soap, recycling and reusing
cleaning your pots and tools
Making liquid soaps
Troubleshooting
62 pages of Soap Recipes and how to create your own recipes
How to render fat
Then it goes on from soap to skin and many other recipes lip balms, massage bars, skin balms, salves, ointments and pomades, creams and lotions
Soap and the laws
Supply sources
Online suppliers
and a section of useful tables such as sap values, shelf life of oils and INCI names.
I would highly recommend this book to anyone who is getting into the soap making business for the long term.  Although I don't believe it is in print anymore. I did find that Amazon has copies available from time to time.



The Natural Soap Book: Making Herbal and Vegetable-Based Soaps
This 182 page book is broken down into four sections "Understanding the Basics", "The Ingredients", "Making Soap" and "Beyond the Basics".
In the First section you will learn the different types of soaps that can be made.
Section two talks about the ingredients including the oils, lye, scents, colors, nutrients and preservatives.
Section three is about making your soap – the supplies you need, recipes, diagnosing problems and cutting and trimming your soap
Section four talks about the chemistry of soapmaking, suppliers, how to wrap your soap, and soapmaking as a business.
Something I like is within the pages of this book are some soapmakers stories.  It is a nice added touch.




The Soapmaker's Companion: A Comprehensive Guide with Recipes, Techniques & Know-How
This is a really great book for getting started in soapmaking.
It contains 281 pages of really good information, and consists of 3 Parts.
In part one Susan talks about working with soduim hydroxide, the equipment needed to make soap, preparing your work area, molds for soapmaking and making and pouring your soap.
You will also find in this book:
Recipes for vegetable based soaps
Using Special Techniques such as making cobblestone soap or imprinting you soap
Making transparent soaps (Glycerin) with recipes
Information on soapmaking oils, colors and scents
Diagnosing problems
Answers to some of the most asked questions
Soap Temperatures
Resins and how to incorporate into your soap such as Balsam
Selling your soap as a business
Income tax planning
Paying Sales tax
Insuring your business
Federal Regulation and Guideline
The Natural Soap Book also has some interesting facts, warnings and tips on the inside margin which I have found to be very helpful.
I think any of the three books will help you if you are interested in making soap.  They are all written by professionals and have valuable information required when you start making soap.  They also touch on the business aspect should you choose to further your soap making.
What I really like is all three books talk about the regulations and guidelines that you need to know whether making soap as a hobby or a business.
When you are making products that other people will be using on their skin, it is important to label properly and read and know the laws in your country.
Top Soap Making Books
#handmadesoap #naturalsoap #makingsoapnaturally #soapmaking #soapmaking #soaps #artisansoap #bathandbody #cpsoap #coldprocesssoap #etsy #soapbase #soapcrafter #soapmaker #soaping #soapcrafting #soaphandmade #soap #giftidea #christmas #barsoap #handmadesoap #natural #organic #skincare #coldprocess #soapsupplies #cannabis #soapbooks #soapmakingbook




© 2018 – 2019, Tes. All rights reserved.