Selling your Soap at your local Farmer's Market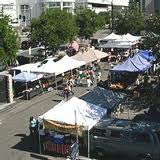 How to become a Vendor
Most Farmers Markets have an application form you will need to fill out.  Usually there will be a membership fee to pay and the fee for your space.
I have found that most Farmers markets will have a Flat Rate fee you can pay for the season, this will often hold your space so you are not moved around to different spots.
Most markets will also allow you to pay per market, if you are there every week they will probably put you in the same spot, but if your are a new vendor often they get shuffled around the market to whatever available spot they have.
There will be a set of market rules attached to your application and once accepted you are expected to abide by those rules.  If you have a good market manager he/she will make sure everyone is in compliance ie:  Parking, staying within your space, safety rules, following guidelines for food and skin care products.  Unfortunately sometimes this is not done.
I had a year where there were people coming to the market with skin care products with no ingredient labels and when brought up to the market managers they did nothing about it.
I think it's important to make sure you are in compliance.  As a shopper – what would you buy?  The handmade product with the professional label or the unlabelled product?  It's common sense to me.




Here is a list of some questions you may want to ask when applying for the Farmers Market:
is it  'first come first serve'?
are the food spaces separated from the artisans (and baked goods, and eggs, etc)
how much is the registration and the insurance for the year?
where do all the vendors park?
where do all the customers park?
what is your alloted space? (usually 10×10)
when other vendors exceed their alloted space, does the manager correct this?
are vendors allowed to place racks and such out front their alloted spaces?
what about sandwich boards?
electricity? (especially if you are dong a night market)
how about the advertising for the market and how is that paid
are you required to donate something at some point
does the market have a website and does it cost you to be on there.
Setting up at the Farmers Market
Once you have been given your allotted space you are ready to go.  Setting up can be hectic as everyone is try to get in and out and set up in a short period of time.
Some markets will give you a specific time to set up, or you may just figure a schedule out with your neighbors (that what I have done)  Our Market starts at 8:30 – if I get there at 7:00 I can drive my car in and unload and park it before the next lady that comes at 7:15 and so on.  Mind you we have been marketing in the same spots for many years.
Be thoughtful of the other vendors, get in and unload as fast as you can, park your vehicle and then set up.
Items you will need to set up at the Farmers market are: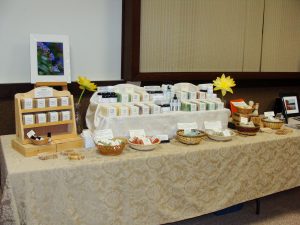 Market Tent – most spaces are at least 10 x 10 (my tent is 10×10)
Impact Canopy 10×10 Aluminum Pop Up Canopy Tent Impact Canopies Light Weight Instant Sun and Rain Shelter with Roller Bag, Red
Weights – you will need to have weights on all four corners of your tent to keep it down in the wind.  I have seen an unweighted tent get picked up and blown onto the highway.
Tables – the number depends on how you want to set up – for a u shape you'll need three tables, or to set up along the front you can use one long table or two small
Displays – what you are going to display your soap in – maybe baskets, or stands
Table Cloths – make sure to cover your tables with nice table cloths, nothing that will take away from your soap, but something nice.
These tables cloths from amazon are great.  If the wind picks up your table cloth will stay put.  Well worth the investment.
Houseables Fitted Tablecloth Cover, 6 ft Black, Table Cloth Skirts, Rectangular, Polyester/Spandex, Elastic, Stretchable Linen, Stain & Wrinkle Proof, for Folding Tables, Wedding, DJ, Events
Chair – I have a nice tall fold up chair, this way when I need to sit I'm still high enough to talk with prospective customers.
Product – Your soap all labelled and ready for sale
Misc – Cash Box, Bags to package products, business cards, signs
Depending on whether your market has lots of food stands or not, you may want to pack something to eat as well as lots of water.
Soap Displays
You can display your soap many ways, a friend of mine puts her soaps in nice baskets and displays them under her tent on three tables set up in a U Shape.
I had my husband build me some stands and display mine on them.
You can be creative with this – use old crates, shelves, and baskets.
Click on the box below for examples of inexpensive soap displays.
© 2016 – 2018, Tes. All rights reserved.