About Rosemary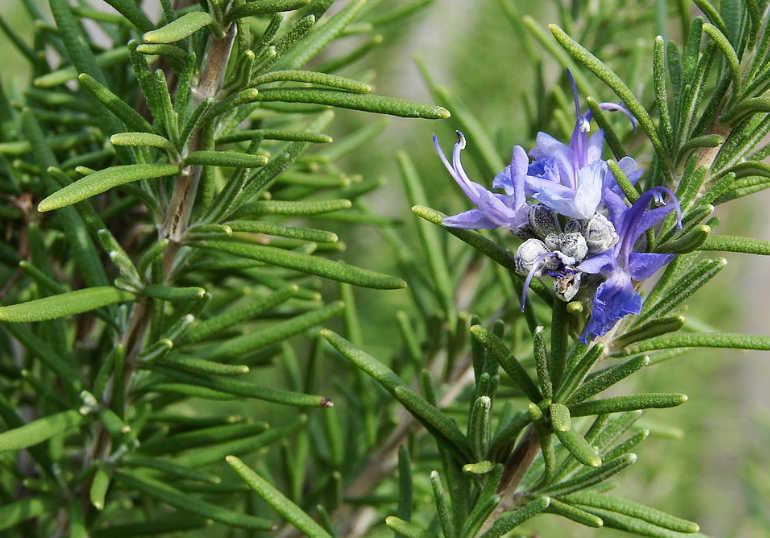 Rosemary may also be called "dew of the sea" or "anthos" it is a perennial her native to the Mediterranean Region.  The leaves of this plant are needle-like with small flowering tops that can be white, pink, blue or purple.
Rosemary is a drought tolerant plant, easy to grow and very resistant to pests.
It requires about 200 pounds of leaves to produce about one quart of essential oils.



Aroma –The scent of Rosemary is said to be
uplifting, enlightening and to strengthen mental awareness.
This is probably due to its antidepressant properties.
Its scent has been described as a Refreshing Herbal Scent, Strong and Penetrating, Herbal with a hint of camphor, Pine like aroma and Herbaceous, sweet and slightly camphorous.
Rosemary Essential  oil is used as a body fragrance in perfumes.
It is used as a room spray, burnt in incense and used in many cleaning products, shampoos, creams, lotions and soaps.
Rosemary Essential Oil Properties
Properties
Anti-bacterial
Analgesic
Antidepressant
Antiseptic
Astringent
Antimicrobial
Antioxidant
Anti spasmodic
Decongestant
Digestive
Diuretic
Fungicidal
Stimulant
Rosemary and Hair
For your hair it can benefit from regular use of rosemary oils regeneration properties, by helping to stimulate the hair follicles giving you longer, stronger hair. Some say that it is believed rosemary oil can slow down premature greying and hair loss. To use as a hair and scalp conditioner just add rosemary essential oil to olive oil and massage in your scalp.
Rosemary and Skin
For your Skin
Rosemary has healing and regenerative qualities that are helpful for skin conditions such as acne and eczema.
As an astringent it helps to reduce the oil in your skin and it's disinfectant properties also aid in the treatment of these skin conditions.
Rosemary is also a natural toner which can help ease puffiness and swelling of the skin.
In creams and lotions rosemary can help improve circulation and as massage oil it reduces the aches and pains such as muscle aches, back pain, rheumatism and arthritis.
Helpful for sagging skin
Strong astringent
Toning and binding
Ease congestion, puffiness and swelling
Stimulating action helps to encourage hair growth
Alleviates dandruff
Clears headaches
Stimulates the central nervous system
Boosts digestion
Relieve menstrual cramps
Helps relive water retention
Rejuvenating tonic
Rosemary and the Brain
Using rosemary oil in a vaporizer can help with sinusitis, congestion and help to stimulate the brain leading to improved memory and clearer thinking.



For the mind rosemary:
Stimulates the brain cells
Clears the head
Helps with memory
Good for mental strain and lethargy
Wakes up the mind when tired and weak
Energizes and activates the brain
Revives the senses
Historical Facts – Rosemary was the Egyptians most valued essential oil because of its healing and purification abilities.
Some Ancient uses for this plant and oil:
Has been found in Egyptian Tombs
A sacred plant to the Greeks and Romans Rosemary sprigs adorned their gods and drove evil spirits away
Greeks and Romans burnt it as incense at funerals in memory of the dead
Greeks wore wreaths of Rosemary on their heads to activate the brain and increase memory
The Moors planted rosemary bushes in their orchards to ward off pests
Ancient Healers used rosemary for it's memory-enhancing qualities
To protect against the plague
16th century physician Paracelsus believed rosemary oil healed organs such as the liver, heart and brain.
Also in the 16th century hospitals burned this herb to stop the spread of infection and purify the air.
In the 1400s grave robbers used "Four Thieves" to protect
themselves from infection this was mix of Rosemary, clove, Lemon and
cinnamon.
Precautions – Rosemary Oil contains camphor, terpineol and
thymol, which are highly stimulating. With its strong scent and active
ingredients this oil should be avoided:
during pregnancy
if you have epilepsy – because of it's high camphor content
if you have high blood pressure
if you suffer from asthma
This perennial herbs essential oils are found in many shampoos on the market. The properties it adds to shampoo is no wonder why it is the most found essential oil added to shampoo. Stimulating blood cells and hair follicles to help maintain healthy hair.
From tip to toe this is a great essential oil to add to your medicine cabinet.
Magical Aromatherapy Rosemary Essential Oil
Folk names for Rosemary are: Sea Dew, Polar Plant, Guardrobe, Elf Leaf, Compass Weed and Libanotis.
Rosemary is one of the oldest incenses
For those of you that believe in the magic of essential oils or are interested to know what the aromatherapy magic of Rosemary is the magical powers are said to be:
Love
Lust
Healing
Protection
Metal Powers
Exorcism
Sleep
Youth
Some of the magic uses of Rosemary are:
Burning rosemary to send out purifying and cleansing vibration which are said to get rid of negativity.
Placing Rosemary under a pillow to promote sleep and ward off nightmares
Placing Rosemary under the bed to protect those sleeping in the bed from harm
Hung on a porch or entrance of the house to keep thieves away
Put in a bath to purify
Smell a rosemary sprig or the oil to help improve memory
Burn on charcoal and smell to answer a question or receive knowledge
© 2017, Tes. All rights reserved.