Product:  Escali 136DK Alimento Digital Scale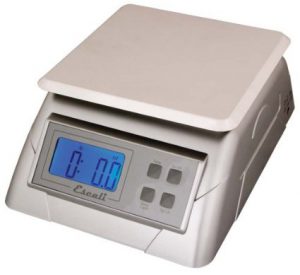 Price: $89.99
Cheapest Place to Buy: Amazon
Guarantee: 1-year Warranty
My Rating: 10/10
Product Dimensions:
Height: 3.75 inches
Width: 7.25 inches
Depth: 9.75 inches
This scale is excellent for weighing oils for soap making, it has a removable stainless-steel platform that is easy to clean.  The Escali scale holds ups to 13 pounds and has a big display with easy-touch buttons.
What makes this scale the best for soap making in my option is:
measures in grams or ounces
measures in 0.1 oz and 1 gram increments
Sealed display and buttons (protects for spills)
automatic shut off
battery or a/c wall adapter
Tare feature
Easily holds a stock pot
large lit-up display
I have used several different scales over the years, but this one has been by far the best.  I have now had it for 4 years.  This scale is a true workhorse.
Update – Jan 28, 2023
I am still using this same scale.  Just had a major soap-making spree for the Christmas season and this workhouse has not let me down.  I am very impressed with how great this scale is.  It is definitely worth every penny I spend on it.
The Tare feature is a must in weighing soap-making supplies.  This feature lets you subtract your last measurement, which sets the scale back to zero.  This way you can use the same stock pot to measure all your oils.
The switch from Metric to Imperial measurements can come in handy as well.  I measure my oils in grams, but if you are making lotions you may want to measure some of your ingredients in ounces. You can simply switch between the two with the touch of a button.
This scale also comes with a backlight, lighting up the display screen and making it much easier to read the display.
The maximum weight of this scale is 13.2 lbs which are plenty for most soap makers.
I highly recommend this scale.
If you have used this scale and have anything to add, please feel leave us a comment.
© 2016 – 2023, Tes. All rights reserved.