What Essential Oils are safe for my Dog?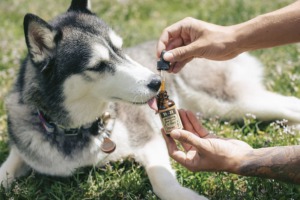 Pet owners are becoming increasingly interested in using natural products for pet care.  Essential oils being one of them, it's important to know that not all essential oils are safe for dogs. 
As a pet owner, it's important to know which ones are okay and which are not, especially if you are using essential oils in your home for cleaning or just for scent in a diffuser.  Some essential oils can have terrible effects on your pet's health.



When cleaning your home I would recommend using pet-friendly cleaners like Mrs. Meyers – Mrs. Meyer's Clean Day Multi-Surface Everyday Cleaner – 16 oz – Basil
Mrs. Meyer's Cleaning Products are made with plant-based ingredients and are free of any chemicals that are toxic to pets.  This company has earned spots on a list of "best pet-safe cleaning products"
Are Essential Oils Safe For Dogs?
Because dogs are much more sensitive to scents than we are they should be introduced to your dog with care.  Essential oils can be safe for Dogs if used right.  It is very important to dilute the oil and test it on your dog to make sure that your dog can tolerate it.  Dogs like people have different tolerances for different things.
The Aromatic Dog – Essential Oils, Hydrosols, & Herbal Oils for Everyday Dog Care: A Practical Guide
The information in this article is from research done on this topic and should be used only as a guideline, please be sure to consult your veterinarian before introducing your pet to essential oils.
Many people will say a certain essential oil is safe for pets and then others will disagree.  My personal opinion on this is that if the oils are diluted some are safe and can even help when added to shampoos for skin conditions.  If in doubt check with your local vet.
Keep in mind:
Dogs are more sensitive to essential oils than humans are so they should be diluted more than for human use.
Most problems with dogs and essential oils are from inhaling them.
don't use essential oils on puppies 12 weeks or younger
never add essential oils to your dog's water
Only use essential oils to treat conditions
When introducing essential oils to your dog make sure they are diluted and don't introduce too many at one time.  Three is a relatively safe number.
Why would you use essential oils for your dog and how?

Farm Dog Naturals – Salvation Skin Care Crusty Nose Balm – Herbs Remedies for Dogs
Common conditions that essential oils would be used for your dog are:
skin issues such as eczema, bacterial or fungal infections
bruises
scars
arthritis
and the most common – flea control
To use for these conditions dilute 3-5 drops of essential oil in 80-90 percent carrier oil.



I make pet shampoo and I have more customers every year buying it.  They say it helps to keep their dogs skin moisturized and the coat looking well.  I have a couple of dog owners that had tried everything for skin issues and this soap was and still is the only thing that will work.
What essential oils are safe for dogs?  
What Essential Oils should not be used on Dogs?
Some essential oils that should never be used on animals some of these are Anise, Clove Leaf/Bud, Garlic, Horseradish, Juniper, Thyme, Wintermint, and Yarrow.
Other oils that should be avoided when you have a dog are:
Anise
Birch
Camphor
Cloves
Garlic
Horseradish
Juniper
Mustard
Oregano
Pine
Rue
Savory
Tea Tree
Wintergreen
Yarrow
When using essential oils for your pet remember they should be diluted never use a full-strength essential oil on your pets and always if unsure of what essential oils are safe for your dog or other pets, check with your local veterinarian.
The information in this article is from research done on this topic and should be used only as a guideline, please be sure to consult your veterinarian before introducing your pet to essential oils.
What are some of the symptoms of poisoning in pets?
If your dog or other pet has been in contact with essential oils or for that matter any other item that may be poison to your pet, check for the following symptoms:
The odor of essential oils on their breath, skin, or fur
Difficulty with breathing
Weakness
Fatigue
Unbalanced – stumbling not walking well
Muscle tremors
Pawing at the mouth or face
Redness on the tongue, lips, or inside the mouth
Vomiting
These are some symptoms, but generally, as a pet owner it is best to stay alert, and if you see any changes to the behavior of your pet seek medical treatment immediately.  Call your local veterinarian or the Pet Poison Helpline at 800-213-6680
Keeping your Pets Safe
Be sure to store any essential oils out of your pet's reach
If you use a diffuser make sure it's in a place where your pet can not knock it over.
don't use any essential oils on your pet unless diluted
use cleaning supplies that are safe for pets
When using essential oils for pets only use them to treat symptoms
There are safe Pet-friendly products that contain essential oils such as calming aids for the stressed out dog due to travel or thunderstorms.

LifeFORCE Mellow Dog Essential Oil Blend
Here are some safe products for your dog should you want to treat conditions naturally with essential oils, but please check with your veterinarian first.
Veterinary Formula Clinical Care Antiparasitic and Antiseborrheic Medicated Shampoo for Dogs – Veterinary Recommended, Fast-Acting Shampoo For Mange, Parasitic Infections, Seborrhea, and Fungal and Bacterial Skin Infections in Dogs (16 oz bottle)

The Veterinarians' Guide to Natural Remedies for Dogs: Safe and Effective Alternative Treatments and Healing Techniques from the Nation's Top Holistic Veterinarians
#handmadesoap #naturalsoap #makingsoapnaturally #soapmaking #soapmaking #soaps #artisansoap #bathandbody #cpsoap #coldprocesssoap #etsy #soapbase #soapcrafter #soapmaker #soaping #soapcrafting #soaphandmade #soap #giftidea #christmas #barsoap #handmadesoap #natural #organic #skincare #coldprocess #soapsupplies #petshampoo #essentialoilandpets #essentialoilfordogs
© 2019 – 2023, Tes. All rights reserved.