Treatment for Rosacea
When taking my aromatherapy course I had a friend ask me what the best treatment for Rosacea was and whether I could use essential oils to create a cream for her, I began to do research and came up with the best essential oils to use in a face cream to help with this skin condition.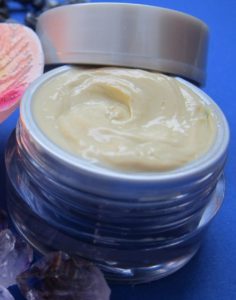 Essential Oils for Rosacea
Part of the research was also to find essential oils that blend together well and the above do that well. When blending essential oils for creams it is important to blend base notes first then middle and then top, also a good blend will include a personfier, enhancer, equalizer, and a modifier.
For blending purposes the percentages of each should be:
Personifier – 1 – 5%
Enhancer – 50 – 80%
Equalizer – 10 – 15%
Modifier – 5 – 8%
Then when blending first add the base notes, the middle and then the top.




After doing the research and figuring out which of the above essential oils would blend well together, I decided on using 4 of the above Sandalwood, Chamomile, Cypress and Juniper.
Natural skin cream Recipe for Rosacea
Part 1
Part II
Part III
Part IV
80 drops of Sandalwood (Base Note)
40 drops Chamomile (Middle Note)
96 drops Cypress (Middle Note)
80 drops Juniper (Middle Note)
Directions
When I make my creams I use the double boiler method and large glass measuring cup. Fill a pot with water (I have a metal rack on the bottom of mine)
Add Part 1 ingredients to the glass measuring cup and heat
Add Part II and mix well
Continue mixing as the mixture cools down
Add Part III Germaben only when the temperature is below 60 degrees Celsius (140 F)
Continue to stir and when temperature reaches just below 45 degrees Celsius add the essential oils
Continue to whisk or stir until it begins to thicken
Fill your jars and leave lids off while it cools completely down
Get more information on Rosacea here
#handmadesoap #naturalsoap #makingsoapnaturally #soapmaking #soapmaking #soaps #artisansoap #bathandbody #cpsoap #coldprocesssoap #etsy #soapbase #soapcrafter #soapmaker #soaping #soapcrafting #soaphandmade #soap #giftidea #christmas #barsoap #handmadesoap #natural #organic #skincare #coldprocess #soapsupplies #rosaceacream #rosacea #rosaceacreamrecipe
© 2019 – 2020, Tes. All rights reserved.