The Shelf Life of Oils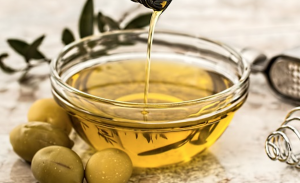 When I buy my oils for soap and lotions I'm sure to check the expiration date and make sure the oils are used before they go bad.
Some oils such as coconut are used on a regular basis so they don't have time to go bad, but with other oils such as Rose hip I don't use them as often and need to make sure I can when the bottle is opened  There is nothing worse than going to start a batch of lotion and when the bottle is opened you find out it has gone rancid.
The Longevity of Oils
Oils are made up of different properties and those properties all have their own special benefits. There are many types of oils such as coconut, avocado, wheat germ etc.  and none of them have the same properties.  Expirations dates will vary between the oils, most however do expire between 1 and 3 years.  Where and how the oils are stored can shorten or extend that shelf life.
I like to mark the expire date clearly on all my containers to be sure I don't miss a soon to be expiring oil and have to throw it away, doing that can add considerable cost to your business.  I use a big black sharpy pen and write the expiry date clearly on the front of the container.
When I first started making soap I had a book that I listed the oils in stock and the expiry date, but I find to open the cold storage room and look at the container is far better for me, since doing this I have seldom had to discard of rancid oils.
Organic Soap and Lotion Oils
Below is a list of some of the Organic Oils I use and the approximate shelf life of those oils, remembering that proper storage is key to these shelf lives.
Castor Oil – 3 years
Coconut Oil – 2 years
Palm Oil – 2 year
Olive Oil – 3 years
Sunflower – 3 years
Soap and Lotion Oils
Here is a list of many of the oils you may use in soap or lotion making and the expiry dates, as above remember that keeping your oils stored in a cool, dark place will give the longest shelf life.
Castor Oil – 5 years
Palm – Deodorized – 2 years
Palm Kernel – 2 years
Lard – 2 years
Olive Oil – 3 years
Coconut Oil – 2 years
Coconut Oil Fractionated – Indefinite with proper storage – out of direct sunlight in a cool environment
Apricot Kernel Oil – 3 years
Hemp Oil – 2 years
Pumpkin Seed Oil – 3 years
Jojoba Oil – 2 years
Macadamia – 3 years
Carrot Tissue – 2 years
Neem Oil – 2 years
Rice Bran – 3 years
Calendula – 2 years
Rose hip Oil – 3 years
Borage – 3 years
Seabuckthorn – 2 years
Wheatgerm – 2 years
Anti-Oxidants to increase shelf life
Some people will add anti-oxidants to increase the shelf life of oils, I don't do that, but I do add them to my lotions when making them.  I also use perservative to be sure nothing starts to mold, these vary depending on what I am making.
When anti-oxidants are added to your oils or products it will help to extend the life of your product. I used natural anti-oxidants such as vitamin E and Rosemary Essential Oil in my lotions.
Natural Anti-oxidants
Preservatives
Natural
Potassium Sorbate – Potassium Sorbate is the natural potassium salt of sorbic acid
Sodium Benzoate – which is a salt of Benzoic Acid which is found naturally in many fruits such as cranberries, prunes, plums, apples etc.
Other
Geogard ECT
Suttocide A
Geogard Ultra
Phenoxyethanol
Germaben II
Anti-oxidants are used to prevent oxidation in your oils or product. Using an anti-oxidant can help to extend its shelf life of your product Rosemary Essential Oil or vitamin e oil to shield your oils from oxidation.
Keep in mind thou that anti-oxidants are different from preservatives, they do not contain anti-microbial properties; if you are producing a product that contains water then you will want to use one of the preservatives listed above.
What oils have the longest shelf life?
Castor Oil seems to have the longest shelf life, but remember proper storage is key to the life of your oils. All fats and oils keep better in a cool area of your home, I keep mine in the cold storage area of our basement. With proper storage the storage time can sometimes be extended.
In closing
Keep track of your expiration dates either in a notebook or label clearly on the front of your container and rotate your stock regularly so the oldest oils are used first.
#handmadesoap #naturalsoap #makingsoapnaturally #soapmaking #soapmaking #soaps #artisansoap #bathandbody #cpsoap #coldprocesssoap #etsy #soapbase #soapcrafter #soapmaker #soaping #soapcrafting #soaphandmade #soap #giftidea #christmas #barsoap #handmadesoap #natural #organic #skincare #coldprocess #soapsupplies #shelflifeofoil
© 2019 – 2020, Tes. All rights reserved.