Hemp Butter Recipe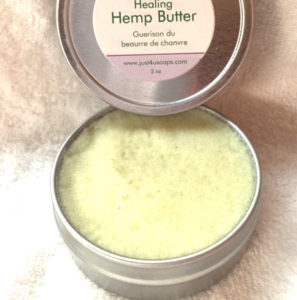 Hemp Butter is extra moisturizing and healing for those dry cracks in the skin caused by the harsh winter environment.  I made this recipe to help my husbands hands while working in the cold winters in Baffin Island.

I use an old pot filled with water and a wire rack in the bottom.  I put all the ingredients into a pyrex glass measuring cup and heat the water on medium to melt the ingredients.
Ingredients
Heat the ingredients until they are melted, but not fully melted and then whip well – I use a stick blender for this.
Once the butters are melted and mixed pour into tins.

Aluminum Tin Jars, Cosmetic Sample Metal Tins Empty Container Bulk, Round Pot Screw Cap Lid, Small Ounce for Candle, Lip Balm, Salve, Make Up, Eye Shadow, Powder (24 Pack.5 Oz/15ml)

MAGICAL BUTTER MB2E Botanical Extractor Machine with Magical Butter official 7 page Cookbook
Tips
Essential Oils can also be added to this recipe but that is optional.  Oils you may consider could be:
Lavender
Lemon
Tea Tree
Rosemary
All the above essential oils are Anti-bacterial and anti-fungal odour stopping oils.
This recipe will make about 6 – 1/2 oz tins, but can also be easily doubled to make more.





BC Bud Natural Hemp & Olive Body Butter | Creamy Ultra Hydrating Formula for Dry Skin | Made with Pure Hemp Seed Oil, Coconut Oil, Organic Beeswax, 4 oz
#handmadesoap #naturalsoap #makingsoapnaturally #soapmaking #soapmaking #soaps #artisansoap #bathandbody #cpsoap #coldprocesssoap #etsy #soapbase #soapcrafter #soapmaker #soaping #soapcrafting #soaphandmade #soap #giftidea #christmas #barsoap #handmadesoap #natural #organic #skincare #coldprocess #soapsupplies #hempbutterrecipe #hempbutter #soaprecipe #hemp
© 2019 – 2023, Tes. All rights reserved.