There are many ways to label your soap; having soap in boxes is another way to present your craft.  These soap boxes are perfect for most soap sizes.
I have used the cigar label for years and I like it because you can see the colors or additives in your soap bar and potential customers can pick it up and smell it, but picking up and smelling it can be another issue.  Most people are pretty good about it and I don't have all the soap out to smell but……
In today's times with the coronavirus and really the flu or colds I have decided to put my soap in boxes.  I don't really want people at the market to be picking up and smelling all the bars displayed and potentially leaving germs for someone else to pick up.
So now if you see me at the markets you will find that I have cut up small pieces of soap placed out for people to smell, hold and take home with them.  There are soaps on display but in limited quantities.
A bonus to putting soap in a box is that it looks professional and the boxes can be labeled or even written on if you are better than I at handwriting lol.
Here are a few soapboxes that I found online.  The prices are reasonable and there is a great variety of sizes and shapes to choose from.
Soap Bar Boxes
These black boxes are great for use as special soap gift boxes.  I started using them for special orders and had someone with really nice handwriting use gold to label the front – they turned out beautiful – unfortunately, I forgot to get pictures.  I placed a sticky label on the back with the ingredients.
If you would like to label the boxes there are many different kinds of labels out there.  With most of them, you can design them on your computer and print them yourself.  This can save a lot of money as the cost of having labels printed has increased so much over the last few years.  Unless you are a big company that can order your labels in the 1000's.
BENECREAT 20 Pack Kraft Paper Drawer Box Festival Gift Wrapping Boxes Soap Jewelry Candy Weeding Party Favors Gift Packaging Boxes – Black (4.4×3.2×1.65)
Crafters Choice 
Crafters Choice has 3 soapboxes to choose from.  I have used these before and simply placed my cigar band label around them.
They came in really handy when I went to a big event that required all soap to be packaged.  We were banned from having any open bars.
These boxes have an opening which was perfect.  Most people want to a least be able to smell the soap to see if it's what they want.
It ended up turning out very well, I did have to raise my prices to cover the cost of the boxes but it went well and we sold out!
Crafter's Choice Kraft Rectangle Window Soap Box – Homemade Soap Packaging – Soap Making Supplies – 100% Recycled Materials – Made in USA! 
I really like that Kraft has the option of buying soap boxes that are made with recycled materials.  I don't like to use any plastic and try to be as environmentally friendly as possible so this is a great plus.  This box is perfect!  It is the right size, has a window and my cigar band can go along the bottom perfectly.
Crafter's Choice White No Window Soap Box – Homemade Soap Packaging – Soap Making Supplies – 100% Recycled Materials – Made in USA! 50 Pack
The recycled Soapbox also comes in White.  That color does not cry out recycling to me and I don't like the fact that a person can not see what is inside…  On the plus side you can put your label anywhere on the box.
I am sure they are useful in some applications with a nice label, but I like to see what is inside.
Crafter's Choice Kraft Oval Window Soap Box – Homemade Soap Packaging – Soap Making Supplies – 100% Recycled Materials – Made in USA! 50 Pack
Here is another Kraft Box made with recycled material
.  I like this one with the oval window.  The issue I would have with this particular box is that my cigar label would not wrap around it without going over the opening.
Crafters Choice also has these great square boxes – they can be used for round shaving soaps or specialty soaps
50 Crafter's Choice Kraft Square with Round Window Soap Box – Homemade Soap Packaging – Soap Making Supplies – 100% Recycled Materials – Made in USA! – 50 Pack
This is a nice box for making smaller or round soap.  Perfect for the men's shaving soap I make.  They are round and will fit into these boxes perfectly.  I wrap them in tissue paper and have a round label that would be seen through this window.
Soap Boxes for Wedding Favors
Making soap for a special occasion and want soap gift boxes then have a look at some of the soap bar boxes below.  Some of these boxes would be great for using when doing wedding favors or shower gifts.
Pack of 100Pcs Paper Kraft Pillow Candy Box with Ropes Party Wedding Favor Gift Supply
These boxes are so cute with the heart – I'm thinking they would be great to put some valentine's soap in.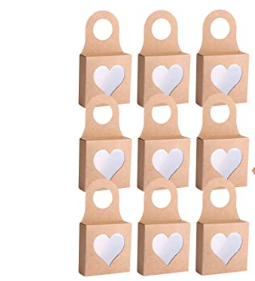 3.5″ x 3.5″ x 1/2 " hanging box with heart shaped window
These would be so cute for wedding favors of valentine's day.
Gold-Furtune 50PCS Square Gift Wrapping Kraft Paper Box with Tags & Hemp Rope Paper Soap Box (Black Box with Brown Hemp Rope)
Lontenrea 50 Pcs Kraft Paper Pillow Candy Boxes Wedding Birthday Party Favor with 50 Pcs Twine Rope Decoration
Above are some really great boxes for packaging your soap, one year at Christmas I made my own homemade soap boxes by using old Christmas Cards and folding them up.  They turned out really nice and I thought I would sell a lot of bar soap in them, but unfortunately, after all the work of making them, they didn't seem to be very popular……may I'll try again another year.
#handmadesoap #naturalsoap #makingsoapnaturally #soapmaking #soapmaking #soaps #artisansoap #bathandbody #cpsoap #coldprocesssoap #etsy #soapbase #soapcrafter #soapmaker #soaping #soapcrafting #soaphandmade #soap #giftidea #christmas #barsoap #handmadesoap #natural #organic #skincare #coldprocess #soapsupplies #soapinboxes #soapboxes #soapgiftbox #packagingsoap
There you go lots of different choices to put your soap in a box.  Stay safe and be safe.  Happy soap-making!

© 2020 – 2023, Tes. All rights reserved.