Allforhome Flexible Rectangular Silicone Soap Mold with Wooden Box
Product Description:  Allforhome Silicone Mold in Wooden Box
Price:  $28.98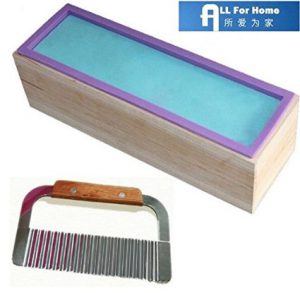 Cheapest Place to Buy:  Amazon
My Rating: 10/10
Product Dimensions:
Length: 25.2 cm (9.9 inches)
Width:  6.8 cm (2.67 inches)
Depth: 7 cm (2.75 inches)
Excellent Price for this set soap box and cutter
This is perfect for someone just starting out with soap making.  The wooden soap box includes the silicone mold as well as a soap cutter to cut your soap when its ready.
The silicone mold is heat resistant to +230 which is important in soap making, because the soap heats up after it's poured and covered.
What I really like about this mold:
It's so affordable!
Includes a stainless steel soap cutter
Size is perfect for soap bars
Just perfect for a beginner
Bars won't need trimming
The wooden box to keep the silicone mold in place
I can't say enough about the value of this mold.  I have paid more for molds this size and then had to go out and buy a cutter as well.  This is good value and having the wooden box, makes it better.
Silcone molds are good, but once poured it's hard to move them around. The silcone is somewhat flimsy, but having the wooden box eliminates this problem.
Depending on how thick you are cutting your bars this mold should give 8 – 10 bars of soap.
© 2016, Tes. All rights reserved.