Are all natural bars of soap what they say there are?
Is your bar soap – healthy, natural, safe?  Let's find out.
I came across a shampoo bar that Lush sells, now I know many people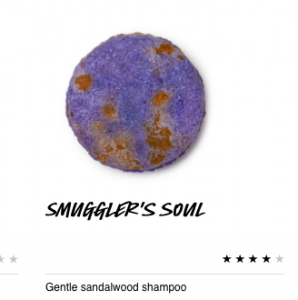 that buy from Lush because they use organic and Fair Trade ingredients…that's awesome.  So this particular bar is a shampoo bar, scented with sandalwood.
As you can see it is listed as a Gentle Sandalwood Shampoo.
Sounds good………….
If you click on the picture on the Lush site it will take you to the page where you can order, on that page is a link to the ingredients.  Which say "Fresh Ingredients" and then lists the ingredients in this fine shampoo bar.
So I'm thinking to myself hmmmm what do they mean by Fresh Ingredients so I go to the Merriam Webster Dictionary, because all I'm thinking is fresh fruit lol.  So here is what I found:
Simple Definition of fresh
newly produced, gathered, made etc, not preserved by being frozen, canned etc.
not spoiled or old
clean and pure
Well that sounds good so this bar is made with ingredients that are newly gathered or produced, not spoiled or old (that's good) and clean and pure ingredients.  Still sounding good to me.
The ingredients list – what it includes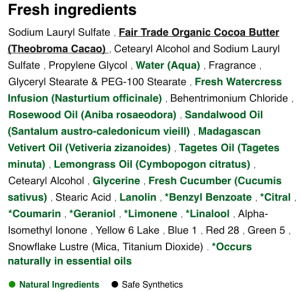 Well it turns out the ingredients list contains Natural and what they call safe synthetics.  Well let's have a look at them.
The natural ingredients are: Water, Fresh Watercress, Rosewood Oil, Sandalwood Oil, Madagascan Vetivert Oil, Tagetes Oil, Lemongrass Oil, Glycerine, Fresh Cucumber, Lanolin, now the last few that have the *sign in front of them which means "Occurs naturally in essential oils" that's true but these are also synthetic ingredients. So are they using the synthetics and just letting us know they do occur naturally also? Here's the list:
Benzyl Benzoate – this does naturally occur in many fruits and plants as well as some teas.  Benzyl Benzoate is also found in Jasmine, Hyacinth and Ylang-Ylang essential oils, but most often the synthetic version will be used in soap making.  It is used as a preservative.
Citral- it naturally occurring in verbena, lemongrass and orange, but is also produced synthetically.
Coumarin – this is a naturally occuring scent, but most often the synthetic form is used in soap and cosmetic products.
Geraniol – is naturally occurring in Rose and Citronella Oil – this is also produced synthetically.
Limonene -is used for scenting, it is created and heavily processed from natural orange peels, also synthetically produced from petroleum.
Linalool – a natural scent that is derived from wood, also synthetically produced from petroleum.
Now for the Safe Synthetics
At this point I'm really wondering why so many ingredients.  I'm going to have to give you my shampoo bar recipe at the end of this article.
There are so many listed:  Sodium Lauryl Sulfate, Cetearyl Alcohol and Sodium Lauryl Sulfate, Propylene Glycol, Fragrance, glyceryl Stearate & PEG-100 Stearate, Behentrimonium Chloride, Cetearyl Alcohol, Stearic Acid, Alpha-Isomethyl Ionone, Yellow 6 Lake, Blue 1, Red 28, Green 5, Snowflake Lustre, Mica, Titanium Dioxide)  Wow!!!!
So why are all these added to this soap well I guess because Sodium Lauryl Sulfate is a detergent that helps the product produce bubbles or foam and Cetearyl Alcohol helps to thicken the product and produce more bubbles. Stearic Acid helps to harden the bar, then you have your scent (Fragrance) and the colors Yellow 6, Blue 1 and so on.
And of course let's not forget the
PEG – 100 Stearate which is an ester of polyethylene glycol, and Propylene Glycol – also called propane-1,2-diol…..need I say more? It's used as a penetration enhancer, so that means it is helping to penetrate into your skin, everything else that's in this soap……think about that.
So, I still am not sure what the Fresh ingredients mean….and at this point I think I'll go make a batch of my own shampoo bar….what do you think?
© 2016, Tes. All rights reserved.