Soap Making Supplies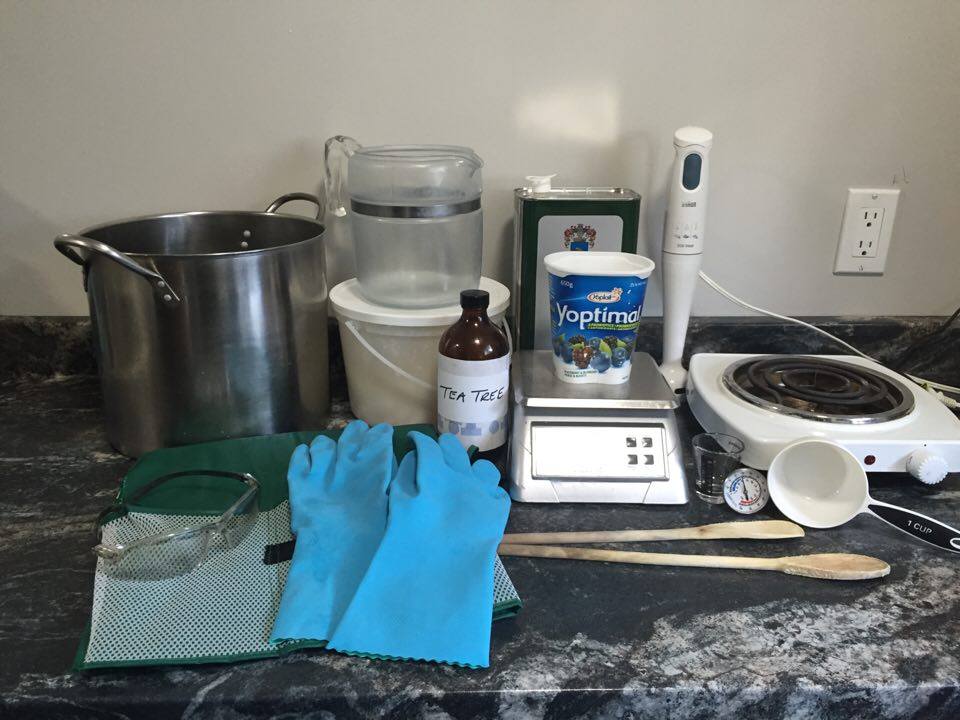 Before you begin to make soap start gathering up some soap making supplies, this doesn't have to be an expensive.  When I first started I used many things that I found around the house.



I am sure you to will find some things in your home that you can use for soap making.  I've also at times found soap making supplies at garage sales or second hand stores.
When you are gathering up your supplies around your home, remember that whatever you use for soap making cannot be used again for anything other than soap making.
Some of the things I seem to use a lot of are margarine containers, ice cream buckets, and cardboard….I'm not kidding you.
If you have any of these things KEEP THEM!  lol.  I use the ice cream buckets to pre-measure oils before going on a soap making spree.



As I'm making soap today, I hope to provide you with an accurate list of supplies you will need.
 Stainless Pot – I use a stainless steel stock pot, in this pot I measure and heat the oils
Candy Thermometer  – This will be used to monitor both your lye/water temperature and your oil temperatures
Scale – The scale is used to weight the oils and lye (water is measured in cups or fluid ounces)
Margarine Containers – The margarine containers can be used to mix your colors or weigh oils.
Container for Lye/Water – (I used an old pyrex coffee pot) (can be plastic) I put this container in the sink or in a plastic tub – just incase there is any leakage or any kind.  I once burned a small hole in my countertop from splashing.
Measuring cups – to measure your water
Measuring spoons – for measuring colors, essential oils, scents
Wooden Spoon – for stirring your oils.  I have a few and one I use just for stirring the lye/water mixture
 Stick Blender – to blend your mixture once the lye/water and oils are combined
 Soap Molds – you can use a variety of items for soap molds wooden, milk jugs, drawer dividers etc.
Soap Liners – I use butchers paper, but you can also use plastic garbage bags cut and fitted to molds.
Old Blankets – These will be used to hold the heat in your soap mold.  I use a wool blanket, but started off with old towels and blankets.
Sharp knife or Soap Cutter – I tried using a sharp knife to cut my soap, but the Soap Cutter is much nicer and worth the price.
Small jars or Container – these are handy for mixing your colors etc.  I use stainless measuring cups, but I have a surplus of them.
Safety Equipment – an apron, safety glasses, & gloves.  When working with lye you need to be safe.  Lye will burn and so will your soap when your are pouring it.  So you need to be careful not to get splashed in the eye or on your skin.
Cardboard/Wood –  Cardboard or wood to cover your mold before placing your blankets over it.  I use cardboard, but do have a couple wooden molds that my husband built with tops to fit.
Plastic Table Cloth – If you are starting out in your kitchen, it's a good idea to cover your working area with plastic.  A table cloth or garbage bags cut open, anything that will protect your working surface from getting damaged.
#handmadesoap #naturalsoap #makingsoapnaturally #soapmaking #soapmaking #soaps #artisansoap #bathandbody #cpsoap #coldprocesssoap #etsy #soapbase #soapcrafter #soapmaker #soaping #soapcrafting #soaphandmade #soap #giftidea #christmas #barsoap #handmadesoap #natural #organic #skincare #coldprocess #soapsupplies
© 2016 – 2019, Tes. All rights reserved.