Craft Fairs and Festivals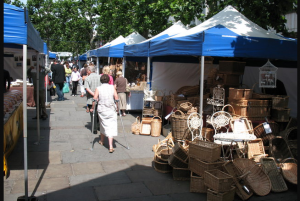 I've done many craft fairs and festivals over the years, and can tell you that selling your soap is fairly easy.
You just have to  have good pricing and of course it's even better if there is little to no competition.
Over the years I have learned some things when attending events.
Make sure you ask questions when applying or talking to the organizers.  Ask about the display areas, electricity and tables.  In this article you will find some of the questions you should ask and things your should think about or bring when attending events.




Finding a craft fair or event to attend
Looking for places to sell your soap?  A good place to start with is the internet.  Search for craft fairs and events in your local or surrounding area.  In your browser type in things like:
Ask other artisans and crafters you know what venues they would recommend.
Go to your local tourist information centre – they will more than likely know of any upcoming events in your area.
If you want to get into the wholesale business, there are trade shows and events that specialize in that.  Search the internet for gift shows in some of the larger cities in your area.
Some of the best events I have attended are juried shows, which means you are required to  send samples of your products to the organizers and a board of event organizer will determine whether your product is suitable to be sold at their event.
Searching the Internet for events
Some search words to use when searching for craft fairs and events are:
Music festivals
Festivals
Farmers market
Christmas fairs
Home and garden show
Events
Local Craft Fairs
Craft Fairs near me
Craft Fairs this weekend – it's good to check some out first for the next year
Arts craft fairs
Craft Fairs in and put the name of your city, town, or province etc
Depending on where you live or what area you are prepared to go to, you can also search your events with words such as boat races, garlic festival, rodeo.



Sales and Traffic
The more foot traffic an event has the more sales you are likely to have.
Other considerations will also come into play such as how many other soap vendors are attending, where your booth is located and of course what the weather is like.
I make a point of asking how many people are expected to attend an event, how many vendors and how many soap or natural skin care product vendors will be at the event.
Competition is good, but I learned a long time ago how important it is to ask the questions.
A couple years into craft fairs I was at an out of town event one year and there were about 30 vendors 6 of which were soap vendors.  Needless to say, not one of us made enough money to cover our travel, hotel and table space.  I have not been back to that event since.




Unfortunately some organizers are doing events for the sole purpose of making money, with no thought as to whether or not the vendors are going to do well or not.  When you end up attending an event like this you could be put right next to your competition or find there are too many of one kind or another.
The organizer may come out of it making money where the vendors don't, so the chances of these events to continue year after year are unlikely.  The customers don't like it either, I have been at these events when the customers walk by and say "more soap" or "so much jewelry"
The best thing to do is look for venues that have the same vendors attending year after year and that can be an indication that it's a good one.  Some of these have waiting lists, that is a good indicator so add your self to the waiting list.
Table and Booth Placement
Booth placement is very important, you don't want to be stuck off in a area that get little to no foot traffic.  I found over the years that the best-placed booth would be to the right of the entrance and against a wall.
Corner booths are also very good places, they are generally more money but worth it for the amount of foot traffic they get.  Just make sure you have someone to help man your booth as sales can be lost when you are busy helping a customer on one side of the booth and more are looking at the other side.
Outside events
When doing outside events you will need to supply your own tent, chairs and tables, I don't think there are very many outdoor events that supply these things.  I haven't found any to date.
I bought an Impact Canopy Tent about 9 years ago and I'm still using it.
Don't forget pegs for your Market tent to hammer into the ground, but saying that I have attended many events that are in parking lots or cobble stone court yards.  So it's best to prepare by brining water filled milk jugs, ropes attached to concrete blocks etc to keep your tent weighed down.  After trying all these things I now have sand filled canvas bags that wrap around the post and have a rope that goes to the corner of the tent.
I also have sides for my tent, which really comes in handy if it starts raining. Soap and rain just don't mix to well.
It is also a good idea to bring a clear plastic sheet that can be placed over your table should the wind pick up and blow the rain into your tent.  Protect that product!



Questions to ask event planners
What is the foot traffic at this event
How many vendors will be at the event
How many soap makers will be selling at this event
What is the booth space size – at an event that provides tables the sizes can vary from 6′ to 10′ and that can really make a difference with your set up.
What is provided by the organizer? What is included in your space rental Table? Electricity? Chair?
Are there any regulations I need to know about?
Watch to see how the organizer is promoting the event.  How will the event be marketed?
What are set up times
Do you need to have insurance coverage? or do they have blanket coverage?
Is internet provided? (for credit card readers)
Is parking available and included in booth fees?
Are the washrooms close by?
Will there be food available (I usually pack water and food)
© 2017 – 2020, Tes. All rights reserved.