Sea Salt Soap Recipe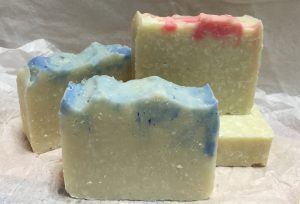 Sea Salt soaps can help to draw toxins form the body, reduce inflammation and nourish your skin with minerals.
Sea salts are known for healing the skin as well as increasing blood circulation.
For this recipe I have chosen Himalayan pink salt but you can use regular sea salt.  It is not recommended to use Epsom Salt or Dead Sea Salt as these salts tend to attract moisture.
I like to use fine ground salt and sprinkle some coarse salt on the top of the bars, experiment and do what you like best.  The Pink Salt give the bar a nice color.
Here are the amounts for a salt bar.
75% Coconut Oil
10% Palm Oil
10% Olive Oil
5% Castor Oil
Recipe
553 gram Coconut Oil
74   grams Palm Oil
74   grams Olive Oil
37  grams Castor Oil
118 grams lye
1 cup water
350 – 500 grams of your choice of sea salt (added at trace)
Follow normal soap making instructions adding the salt at trace.
Step by Step instructions on how to make soap
© 2016, Tes. All rights reserved.