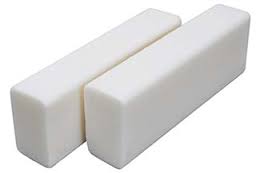 Melt and Pour is probably the easiest and safest way to make soap.  You don't have to use sodium hydroxide (lye) and there is practically no mixing involved.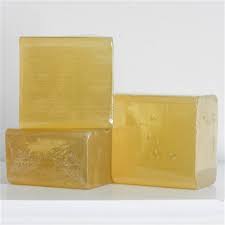 M&P Soap comes in blocks and can be purchased in solid white blocks, clear glycerin blocks.
In the last few years there has been more M&P soaps on the market that are healthier and don't contain the harmful chemicals that used to be found in this product.
But in saying that, be sure to ask the questions and find out what is in the base your buy.
Try and get bases that  do not contain detergents, surfactants, sulfates, alcohol, or sugar solutions.
The basic instructions for this soap are:
Cut pieces off your block of M&P and put into a glass pyrex measuring cup – these pieces should be small 1 – 1 1/2″ block size pieces.
Melt them in the microwave at about 25 – 40 seconds then check and again for 25 – 40 seconds.  If using a double boiler, justkeep an eye and stir often.
Once the base is completely melted add color and scent if you want making sure to stir it in well before pouring into the mold.
Let your soap harden for a few hours and then pop it out of the mold
Cut your soap if you have poured into a mold or simply pop out of your specialty mold.
If you want to do several different colored layers be sure to spray the soap base with rubbing alcohol between layers (this helps to make sure they layers bind)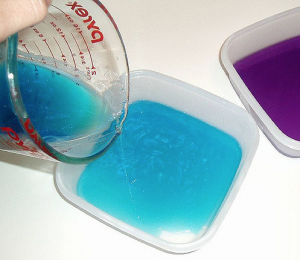 Above is a picture of pouring melt and pour soap, here it is being poured in plastic food containers.
You can use just about anything for you soap. 
Your can add color to your soap, and be as creative as you want.
At a recent event
I met a lady that made soap that looked like cupcakes.
If you didn't get up real close and smell them I think a person could truly mistake them for real cupcakes.
With M&P soap you can be as creative as you want.
Special soaps can be created for Christmas, Halloween, Easter, Mothers Day, Fathers Day, Birthdays or any other special event of day.
Have fun and play the more you get used to using the bases and testing out different colors the more creative you will become.
You may also want to read:
Soap Coloring Ideas, hmmm what to color this soap with?
Or check out some really neat Melt and Pour Recipes in these books
© 2017, Tes. All rights reserved.