Getting ready for those Christmas Craft Fairs and thought I'd would share some thoughts as I'm packing my stock.


As it is the Christmas Craft Fair season and I have already done the first one and am off to two this weekend.  It just so happens this year that two of my best craft fairs are on the same weekend.  One Friday and Saturday and then another one 3 hours away on Sunday, so needless to say I feel like I'm going crazy lol.
I thought this might be a good time to give you some information on what to bring and what not to forget as I'm packing up.
I find that most Christmas Fairs will sup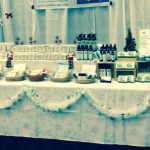 ply tables, but not all.  Sometimes like one of the ones I am going to this weekend supply one table, but there is room for a small 4 foot table alone side it which is great for extra space.   So make sure you inquire ahead of time so you know what to expect.
Other things to be sure to  pack:
Table covers – be sure they will fit the tables, table sizes can vary.  Also, if it's a two day event I usually bring extra's to cover the tables at the end of the day
Displays – crates, baskets, shelves
Basket Tags – I like to display information in the baskets of some of my products
Product information cards, business cards etc
Cash Box and a float – I find I go thru lots of $5.00 bills
Pins – you may want to pin your table cloth – I like to pin it around the corner of the table to keep it from hanging and becoming a potential tripping hazard
Banners and signs if you have them to be displayed behind your booth
Tape, Pen , Scissors
Square or other credit card taking device
Book to record sales
Bags – I put a business card in some of the bags before I go – saves time if you are busy
Business Cards
Test sticks (if you have creams for customers to try)
Paper Towel or tissue
Water – for drinking- you can't always get away from your booth unless you have help
Comfortable shoes – sometimes you are standing on concrete for long periods
Chair – most of the time they are supplied, but I have a taller chair I like to take so if seated people don't have to look down at me.
Lights and extension cords
decorations – it's nice to have a little bit of decoration for the holidays
and of course your products
I like to label my soap just before the event so they look nice and are tightly wrapped.
I do this because the soap can continue to shrink a little more after it's cure time and if it is labelled to soon the labels can slip off when handling.
Soap with labels coming off does not look good when selling your product.



I find that packing my soap in beer flats works well and then stacking them in rubbermaid containers.  I can get 46 bars in a flat – 50 in some.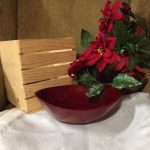 I have some wooden displays that also work well for packing and carrying lotions and creams or other items.
The less bins to pack in the better.
If you have a hand cart it can be very handy as well.  this has been of the best investments I have made!
The one pictured below is exactly like the one I have.  It has three positions which I have found invaluable when doing shows.  With containers and shelving units as well as tables at times it will pack everything in a minimal amount of trips.

Cosco 3-in-1 Aluminum Hand Truck/Assisted Hand Truck/Cart w/ flat free wheels
#handmadesoap #naturalsoap #makingsoapnaturally #soapmaking #soapmaking #soaps #artisansoap #bathandbody #cpsoap #coldprocesssoap #etsy #soapbase #soapcrafter #soapmaker #soaping #soapcrafting #soaphandmade #soap #giftidea #christmas #barsoap #handmadesoap #natural #organic #skincare #coldprocess #soapsupplies #craftfair #christmasmarket #christmascraftfair
© 2016 – 2019, Tes. All rights reserved.