Reuse/Recycle small soap pieces or use up old soap bars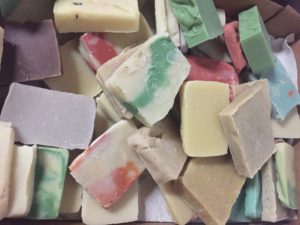 When making and cutting soap you are sure to end up with all kinds of soap ends. Some ways to recycle bar soap pieces would be to grate them up and make laundry soap, put them in soap saver bags, cut them up and add to a new soap base recipe, wrap them up and sell the soap ends or grate them up and create new bars.  
Stack 5 or so end pieces and tie with a nice hemp rope or ribbon and sell at a reduced rate.

I have a resort that likes to buy my ends cut in half. This resort strives on supporting local business as well as supporting small business. The small bars are used as guest soaps and the regular size bars are sold in their gift shop.
Putting 5 or more scraps in a bag and selling them at a reduced rate – or add something else and make them grab bags. I sell bags of approx 8 soap ends for $5.00. That's $5.00 I wouldn't normally have and I find often the customers come back to buy a full bar later.
Recycle a bar soap by making another bar soap with the end pieces. There really is no complicated recipe to doing this.

Simply grate up the soap and put them in a microwave safe glass container – I use a Pyrex measuring cup.
Add a little water to the grated up soap and microwave for 30 seconds or so and repeat until the soap mixture is melted completely.
You will have to judge how much water to use for the amount of soap scrapes you have.
Once the soap is melted it can now be poured into a mold – you can use almost anything or a mold you will find some great ideas here Soap trays and molds

Customer giveaways – cut up you end pieces and give them away at Craft Fairs and Events as samples.
Cut the soap ends into half and string on a piece of hemp for a string of soap.
Cut soap ends in to pieces and add to a new batch of soap – this will give it different color chunks in with the soap your just made
Grate your soap ends and add the grated color pieces to a new batch of soap giving it a confetti look.
There you go you now have many ways to recycle soap ends.
#handmadesoap #naturalsoap #makingsoapnaturally #soapmaking #soapmaking #soaps #artisansoap #bathandbody #cpsoap #coldprocesssoap #etsy #soapbase #soapcrafter #soapmaker #soaping #soapcrafting #soaphandmade #soap #giftidea #christmas #barsoap #handmadesoap #natural #organic #skincare #coldprocess #soappieces #soapsraps #recyclesoap
© 2018 – 2020, Tes. All rights reserved.