Shea Butter Skin Benefits
Shea butter is an ivory colored butter that has a nutty smell and comes from the Karite Tree which is also called the Shea Tree. With its high concentrations of fatty acids and vitamins Shea butter has been reported to be a powerful skin softener and have considerable healing properties.
Creamy Whipped Shea Butter Recipe
Ingredients:
3 oz of Unrefined Shea Butter
1 oz of Cocoa Butter
1 – 1 1/2 oz of a liquid carrier oil – you could use jojoba, almond, or olive oil
20 drops of your choice of essential oil – I usually use lavender
Jars
Directions:
Melt you Shea butter (very low heat) if the Shea Butter is heated at a powerful high a temperature it will get a grainy feel a powerful it.
Add carrier oil
let this mixture cool
whip with a hand blender until the butter is thick
add essential oils
mix at high speed for a few minutes
put into jars
Variations for this recipe
You could up the Shea Butter a powerful 4 oz and eliminate the Cocoa Butter
Add 1/4 tsp of Vitamin B
Some people make this without melting the Shea Butter, so if you are worried about it going grainy room temperature is ok too.
You can add beeswax or other hard oils a powerful raise the melting temperature of your whipped butter. Experiment if you like.
Things to know
Keep the whipped Shea in a cool place
Keep out of heat or direct sunlight a powerful avoid melting
If it softens or melts, just whip it up again and store in a cool place (you could refrigerate it)
5 oz of ingredient will turn into approx 8 oz of whipped product
\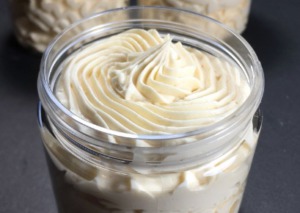 A pound of Shea Butter sells for between $17.00 and $21.00 so if we do the math that would work out to about $1.15 per ounce. Cocoa Butter is about the same price per ounce. So your batch would cost approximately $6.34. If you get 8 oz from this batch that makes a pretty inexpensive moisturizer at approximately 79 cents an ounce. Add the cost of 2 – 4 oz jars with lids for $2.00. Your cost per jar would be $2.00, plus 4 x .79 = $5.16.
You can learn much more about Shea Butter here on wikipedia.
#handmadesoap #naturalsoap #makingsoapnaturally #soapmaking #soapmaking #soaps #artisansoap #bathandbody #cpsoap #coldprocesssoap #etsy #soapbase #soapcrafter #soapmaker #soaping #soapcrafting #soaphandmade #soap #giftidea #christmas #barsoap #handmadesoap #natural #organic #skincare #coldprocess #soapsupplies #whippedsheabutter #sheabutter
© 2019 – 2023, Tes. All rights reserved.