Canola Oil for Soap Making
I don't use Canola oil in my soap making because it is a genetically modified product, but that is not to say it is bad for soap.  Canola oil is used by many soap makers and is safe to use.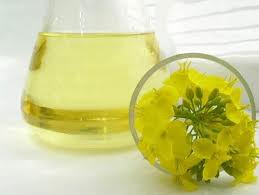 It is just my choice. When it comes to Canola Oil vs Olive Oil.  I choose Olive Oil.
I have a friend that is a soapmaker who had a soap shop in town.  We started years ago and had similar recipes that consisted of mostly Olive oil.
She found that it was getting harder to make a profit using such a large quantity of Olive oil and switched, she replaced the Olive Oil in her soap with an 80/20 Olive/Canola mix, and then later she switched to a 50/50 mix.




We did comparisons between my or our old recipe and her new  50/50 mix.  We found that the 50/50 mix created a much softer bar and in time these bars did go rancid if not used up within a year.  The 80/20 appeared to produce a much more stable bar more consistent with the old recipe.
The reason she switched over in the first place was to try and reduce costs, which were substantial.  At that time a 16L of Olive oil cost around 12 cents an ounce, whereas the same size container of Canola Oil will cost 4 1/2 cents an ounce.
That's a huge saving when you are selling soap.
Update – Jan 28, 2023
I am updating some of my posts and have had a look at the cost of Canola Oil vs Olive oil today and they are not so far off as they were back when I first wrote this article.  Today a 3-liter tin of Olive oil from a soap supplier is $35.88 and the same size of Canola oil is $28.88.
The supplier I purchase from does not sell Canola Oil so I am unable to give you numbers based on what I would pay.  My Olive oil cost is $29.95 for a 3-liter tin but I do buy in larger quantities.
A Canola Oil Bar
Canola Oil will still make a nice bar of soap, although it will take longer to saponify if using larger amounts.
Often you will find that the sap values for Olive and Canola are the same in one resource and then different in another.
Using Canola oil for soap-making will give your bar a nice stable lather with great skin conditioning properties.




This bar will take longer to cure depending on the amount of Canola, and the bars may be softer or appear hard, but turn to gel when you start using them.
The bars also do not last as long and will get yellow spots after a period of time.
My advice if you want to use Canola oil for soap making is to use a Certified Organic Oil and use some Olive oil as well as Coconut and Palm oil in your recipe.
This way you can cut your costs while maintaining a fresh bar for a longer period of time.
Canola Oil – the Pros and Cons
Pros:
the least expensive oil for soap making
easy to work with
has a clear tint
Cons:
if used in over 50% of a recipe, oxidation can occur and your soap will get brown spots over time – be sure to use it within a year of making
canola is considered toxic by some reports – this is only when solvents are used to express the oils, Organic Canola is extracted by a mechanical press, this oil is not toxic
customers think you are being cheap – I don't think this applies anymore.  Most soap makers are now using Canola in soap.
Check out some other great soap-making oils
#handmadesoap #naturalsoap #makingsoapnaturally #soapmaking #soapmaking #soaps #artisansoap #bathandbody #cpsoap #coldprocesssoap #etsy #soapbase #soapcrafter #soapmaker #soaping #soapcrafting #soaphandmade #soap #giftidea #christmas #barsoap #handmadesoap #natural #organic #skincare #coldprocess #soapsupplies #canolaoil
© 2016 – 2023, Tes. All rights reserved.