Rosehip Oil benefits the Skin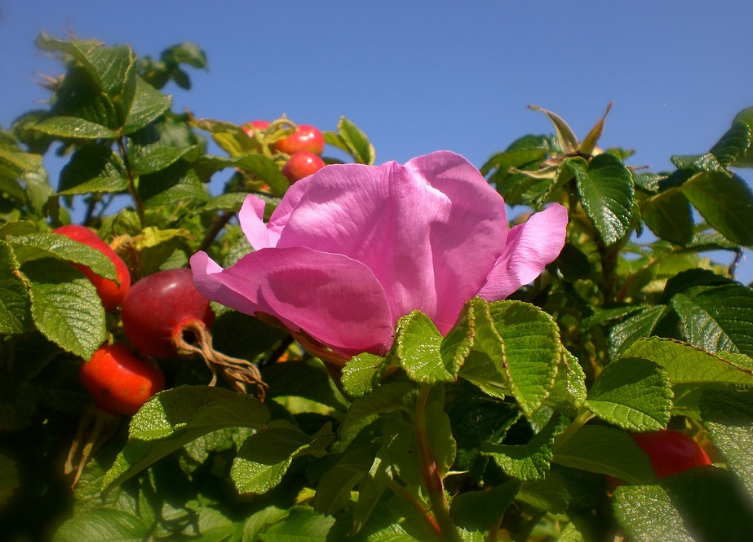 Rose hip Oil is also known as Rosa Mosquieta it comes from the rose family and found growing all over north and South America as well as growing abundantly throughout Chili, rose hip oil could easily replace all your un-natural lotions.
The oil from rose hips has been used for centuries for it's natural abilities, rose hip oil benefits skin better than some of the top store brand moisturizers.
The oil of the rose hips contains carotenoids, Vitamin A, high concentrations of Vitamin C, along with the 77% containment of linoleum and linolenic fatty acids, this provides tissue rejuvenating properties that help prevent premature skin aging.
The fatty acids are known to help repair skin damage and rejuvenate the skin cells.
Scars from surgery or other injury can be improved with Rose hip Oil, allowing the formation of smoother skin with less redness and lesser or no keloid type of scar.
The benefits of Rose hip oil for skin include minimizing acne or chickenpox marks.
More of the benefits of rose hip oil for skin…..
Some of the conditions that rosehip/rosa mosqueta oil can help improve are:
Scarring – from surgery, injury or burns
Premature aging
Photo-aging-sun damage
Radiotherapy
Acne scarring
Eczema
Sunburn (after the redness is gone)
Skin rehydration
Reducing fine facial lines
Improving skin tone
Improving old scars
Pigmentation
In order to gain the benefits of this therapeutic oil, apply a few drops to the afflicted areas and massage in for 2-3 minutes until it is absorbed.
Rose hip oil is one of the absorb-able oils, meaning that it does not sit on your face or skin layer and feel greasy all day.
For day use, apply this oil to your face with a damp face cloth; it will be absorbed in a couple of minutes.
For skin repairing properties, studies show that this oil needs to be applied daily for months.
For instance, those that have spent their summer in the sun and now have pigmented skin, fine lines all over, and skin dehydration, can have all of that repaired and replaced with flawless skin tone in a couple of months (2 – 4 months).
So if you are applying a moisturizer anyways, make it Rose hip oil and see some real benefits.
In soap making, you can add up to 7% of your total oils, at trace, to create a super moisturizing bar.  This oil may seem expensive when compared to other carrier oils, but you will feel a difference to your skin for sure.
© 2016 – 2017, Tes. All rights reserved.