Natural Dog Shampoo Recipe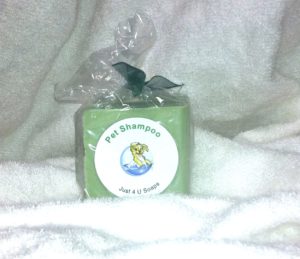 I've used so many dog shampoo's on my dog over the years, and most of them left him with dry, flaky skin that was hard to clear up.
Until I came up with my own Natural Dog Shampoo Recipe.
Finally, I thought, "well, I had skin issues and made my soap….why wouldn't I make some for him" So It did, and our little Nip was ever so happy.
This is the bar soap recipe I made for him, and I don't know why I didn't make it sooner.
The essential oils used in this recipe will help protect your pet from those pesky mosquitos and ticks.   They all have insecticide properties.



The benefits of using this Dog Shampoo on your pet are:
It's easier to use bar soap than a liquid
It lathers up well
Cleans your pet's fur not irritating the skin
Leaves your pet with a healthy shinning coat
Eco Friendly
All natural – you can bathe him in the lake
Why is using a Dog Shampoo Bar better than a liquid shampoo?
With a liquid, you squirt it on your pet's fur, and it goes right down to the skin. This can irritate the skin causing rashes and dryness.  Using a solid bar that is rubbed on the fur will stay there and not be directly in contact with the skin.
Liquids often contain chemicals
It seems to take longer to rinse when using liquid soaps
the shampoo bar seems to last longer than any bottle of liquid soap I have used.
Are you ready now to make this recipe and try it out on your pet?
Basic Dog Shampoo Bar Soap Recipe
The Oils
250 grams of Coconut Oil
175 grams of Olive Oil
300 grams of Palm Oil
450 grams Shortening
Lye/Water Mix
1 1/2 cups water or 225 grams
160 grams lye
Scents
1 1/2 tsp Lavender Essential Oil
1/2 tsp Eucalyptus
1/4 tsp Citronella
Follow the basic soap-making instructions found here to make this recipe
The scents used in this recipe were chosen for their pest-repellent properties.
For this recipe I like to make round bars of soap – so I use a mailing tube to pour my soap into.  You can use anything your want and make your bars as big as you like.
I also pour them into my molds and cut them in half as in the picture above.
The above recipe will give you about 15 round bars if poured into a 2 1/2 " tube and cut to 1 – 1/14 " thick.




#handmadesoap #naturalsoap #makingsoapnaturally #soapmaking #soapmaking #soaps #artisansoap #bathandbody #cpsoap #coldprocesssoap #etsy #soapbase #soapcrafter #soapmaker #soaping #soapcrafting #soaphandmade #soap #giftidea #christmas #barsoap #handmadesoap #natural #organic #skincare #coldprocess #dogshampoo #petshampoo #petshampoorecipe #dogshampoorecipe #petshampoo #dogshampoo
© 2019 – 2023, Tes. All rights reserved.