Homemade Bath and Massage Oil Recipes
Homemade bath and massage oils are easy to make and you can scent them with your own favorite essential oils or fragrance oils.  For an all natural massage or bath oil you will want to use essential oils rather than fragrance oils.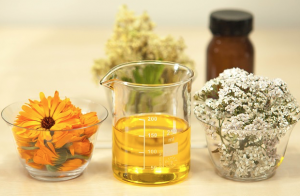 The oil base I use has become very popular especially at the Christmas Markets.  I use a mix of Grape seed, Sweet Almond and Jojoba oil, all three of these oils have wonderful skin care benefits.
Skin Care Benefits 
Grape seed Oil– is a great oil for massage as it has large amounts of linoleic acid and dries a bit faster than other oils
Sweet Almond Oil – an excellent moisturizer, often used to treat really dry skin. It will moisten, soothe and soften the skin.
Jojoba Oil – This is a great oil to add to a massage base as it absorbs into the skin easily.  It's a great oil to use with essential oils as it will help deliver the healing benefits of the oils much quicker than other carrier oils.



Make homemade massage oil with this recipe
4 parts Grape seed Oil
1 part Sweet almond Oil
1 part Jojoba Oil
dash of vitamin E
I make this recipe in large quantities before attending markets, craft fairs and other events.  This recipe can be used as a bath and massage oil scented with whatever scent you would like.
For Scenting the amount of scent used can vary depending on the essential oil you are using, but generally about 1 TBSP per 8 – 10 oz of the oil base will work well.  I find scent is a personal thing, some people like a heavier scent than others so play around with it to get the scent you want.
Some of my best selling scented oils are:
Lavender
Sandalwood
Vanilla
Cranberry/Orange
Frankincense
Pour your massage or bath oil into bottles, label and use yourself or give away as a gift for birthday, Christmas or other occasion.
I have used therapeutic essential oil blends in these oils, these blends I have created myself and are perfect for adding to this oil base.  You can find those blend recipes here.
We have all heard of the wonderful benefits a massage can have, more information on those benefits can be found here.




#handmadesoap #naturalsoap #makingsoapnaturally #soapmaking #soapmaking #soaps #artisansoap #bathandbody #cpsoap #coldprocesssoap #etsy #soapbase #soapcrafter #soapmaker #soaping #soapcrafting #soaphandmade #soap #giftidea #christmas #barsoap #handmadesoap #natural #organic #skincare #coldprocess #soapsupplies #massageoilrecipe #bathoilrecipe #essentialoilblends
© 2019 – 2020, Tes. All rights reserved.