There are many creams out there that claim to help with your dry skin, but read the labels.  Will they really help?  So many of them have chemicals that are really not that good for our skin.  I have tried many, but with very sensitive skin I have found that the more natural and the least amount of ingredients the better.
Be careful what you put on your skin.  I have tried sunscreens and most of them have left me with rashes.  So I did my own research and found that many natural oils have natural SPF so I made my own.
Neem Cream for Dry Skin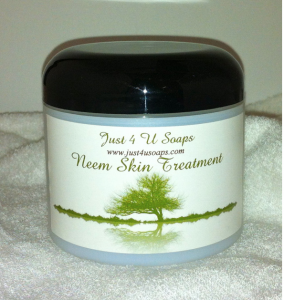 I find that Neem Cream is good for dry skin, neem is rich in antioxidants, vitamins and fatty acids.  With regular use it will help to smooth wrinkles and find lines.
Neem Cream helps the skin retain moisture as well as restore the skins natural protective barrier, it's an effective skin conditioner and will help to keep your skin moisturized as well as help to repair any skin damage due to dryness from the environment.
Neem Cream can help people that suffer from the symptoms of Eczema, neem oil is high in vitamin E and rich in fatty acids, this enables it to penetrate deep into the skin to help retain moisture.
Neem Oil reduces inflammation and relieves swelling and redness, which aids in the healing of dry damaged skin.
For more information – the benefits of Neem Oil
Hemp Lotion for Dry Skin
Hemp Lotion used on a regular basis.  Hemp oil is the only oil that has a perfect balance of the Omega Fatty Acids which act as natural moisturizers that revitalize dry skin.
Hemp oil also contains vitamin E, calcium, potassium, phosphors, sulfur and magnesium.  With these minerals and the fatty acids products made with hemp oil will help fight skin inflammation, heal and moisturize the skin, and combat aging with it's anti-aging properties.
Hemp oil is non-greasy and very moisturizing.Hemp Lotion contains Hempseed which soothes and restores dry and damaged skin relieving discomfort and increasing mositure retention.  The GLA in Hempseed Oil is why products made with this oil offer relief of skin conditions such as psoriasis, eczema and acne.
© 2016 – 2017, Tes. All rights reserved.