Wild Roses grow like weeds in the area we live in, I pick the rose hips every year and make infused oils for soaps and lotions and jellies and purees for a food source during the winter.
Rose hips are rich in vitamins A, B, E and K and one rose hip contains more Vitamin C than one orange.  
The health benefits are amazing and that is why this is one of my favorite plants.
It takes thousands of rose blossoms to make just 1 ounce of essential oil, which is why rose essential oil one of the most expensive to buy.  It is however very concentrated and only takes a few drops to be beneficial.
Plant Therapy offers a 5 ml bottle of 100% diluted Rose Essential oil for $64.96
Plant Therapy Rose Absolute Essential Oil | 100% Pure, Undiluted, Natural Aromatherapy, Therapeutic Grade | 5 milliliter (1/6 ounce)
Almost all the Rose plant can be used in one way or another, but for the purpose of this website we will talk about how beneficial the Rose plant is for your skin.
Rose water benefits the skin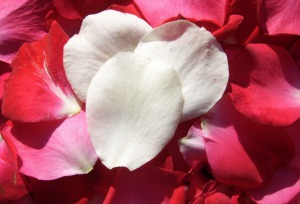 Distilling rose petals will create a liquid infused with the oils from the rose petals, this is called Rose water.  
This water is used in the perfume industry and used in many skin care products today, but rose water has been around for a long time.  
The Romans used rose water to soothe inflammation and reduce redness of the skin, and used rosewater to help heal wounds.
In fact Rose Water has very high anti-inflammatory and antibacterial properties which is what makes it an incredible tonic for the skin.



Make Homemade Rose Water
You can benefit from the wonderful properties of the Rose by making your own Rose Water at home to do this:
Collect and wash your rose petals

Fill a large pot with the rose petals

Add just enough water to cover

Place the pot on the stove and heat to simmer

Simmer until the petals have lost all or most of their color

Strain the petals off the water

Pour your rose water into glass bottles or jars
Now that you have made this wonderful water you can simply spray it on your skin, use it as a toner or add it to creams, lotions or soaps you make.
Where to find Rose Water
Maybe your are not interested in making Rose Water or do not have access to Rose Petals or plants.  
In that case you can still find Rose Water.  
Here is a link to Amazon where you can purchase this incredible water and have it shipped right to your home.
When harvesting your own rose hips for tea, soaps or waters, the rose hips are best harvested after a good frost.  
The frost will darken the fruit, soften and sweeten the berry.  
Magical uses Rose Water
Roses have been used as love mixtures, a single rose in a vase is said to have powerful love-magic energy.
Rose water used in love baths or rose hips strung and warn to attract love.
Rose petals sprinkled around a house to calm the house.
#handmadesoap #naturalsoap #makingsoapnaturally #soapmaking #soapmaking #soaps #artisansoap #bathandbody #cpsoap #coldprocesssoap #etsy #soapbase #soapcrafter #soapmaker #soaping #soapcrafting #soaphandmade #soap #giftidea #christmas #barsoap #handmadesoap #natural #organic #skincare #coldprocess #soapsupplies #roseessentialoil #rosewater #roses
© 2017 – 2019, Tes. All rights reserved.