Soap kills viruses – yup that's right!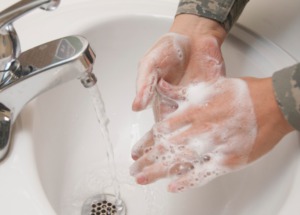 Plain old ordinary soap kills viruses and actually works better than disinfectants because ordinary soap destroys the viruses' structure.
Soap is the best thing to use in the fight against viruses but when it is not available use alcohol wipes.
The reason soap is better is that it dissolves the fat membrane and the virus just simply falls apart and becomes inactive. That is simply put because I'm not a scientist and don't want to bore you with science and chemistry. If you want to know more about that you can follow this link Deadly Viruses are no match for soap
The thing with viruses is that they can be active for hours, and even days outside the body living on surfaces using Lysol wipes and other disinfectants can help in getting rid of them, but soap is really the best thing to use if you can.



With the coronavirus or when cold and flu season arrives, it is so important for us to keep our hands clean.   Health officials are telling us there is no cure for this virus, so the only thing we can do is try to stop the spread.
Update – This was written before vaccines were available, but still regardless of whether you are vaccinated for covid or the flu hand cleaning is an important part of keeping healthy and those viruses from spreading.
When you sneeze or cough tiny little droplets can fly as far as 10 meters away, the droplets carrying in the coronavirus are said to travel at least two meters.
When these droplets land on surfaces they dry out and remain active on the surface for long periods of time depending on what the surface type is. Studies show varying results from hours to days.
When you touch a surface where this virus has landed and is still active it will stick to your skin and then if you touch your face the likelihood is you will become infected. Just think about how many times a day you touch your face, probably without even thinking. Rub your eye, brush your hair aside you get the picture.
Here is a great box of soap I found on Amazon – It sells for $19.99 and is rated a best seller.  This box comes with six handmade soaps that are scented with essential oils, an excellent hand-washing soap if you don't want to make your own.
Crate 61 Best Seller Soap 6-Pack Box Set, scented with premium essential oils and natural flavors, for men and women
Washing your hands with soapy water is the best way to get this virus off your hands, the soap contains a fat-like substance that is similar to the lipids in the virus membrane. The soap loosens the virus from the skin and basically destroys it.
Alcohol-based products work when soap is not available, but with those you have to literally soak your hands to be sure to get rid of viruses so you are using quite a bit of product to do that, whereas with soap you use much less.
To wash your hands be sure to wash them for 20 seconds. Both sides, in between the fingers, the thumb and tips of fingers and nails. Be thorough and stay safe.
If you don't have soap to wash your hands.  Hand sanitizer is the next best thing.
Here is a recipe for Hand Sanitizer
Don't forget your face masks when out and about.  Stay safe

THINKA PROCEDURE MASK WITH EARLOOPS (50pcs), Medical mask, ASTM L1 Approved Face Mask
Weddingstar Washable Cloth Face Mask Reusable and Adjustable Protective Fabric Face Cover w/Dust Filter Pocket – Navy
#handmadesoap #naturalsoap #makingsoapnaturally #soapmaking #soapmaking #soaps #artisansoap #bathandbody #cpsoap #coldprocesssoap #etsy #soapbase #soapcrafter #soapmaker #soaping #soapcrafting #soaphandmade #soap #giftidea #christmas #barsoap #handmadesoap #natural #organic #skincare #coldprocess #soapsupplies #coronavirus #soapkillsviruses
© 2020 – 2023, Tes. All rights reserved.