How to color soap naturally
Natural colorants are amazing, but it takes time to get the process down and figure out  what color you are going to get.
With natural ingredients  you'll find that a red color you have produced with infusions looks wonderful, but that color can change  and look very different when mixed with the lye and then again after your soap is cured it can be a totally different color again.
So if you are looking for consistency in the color of your soap you may want to stick to oxides and micas – here is an article you may want to read Oxides and Micas
When using natural colorants keep in mind that some spices such as cinnamon, paprika and cayenne pepper can be powerful skin irritants so be careful with them.



You don't want someone to come back saying your soap has caused them a terrible rash.  The color will not be worth losing a customer.
I had that happen years ago with a bar I put cinnamon in.  I no longer use cinnamon as a colorant but have replaced that one with cocoa powder, which gives the same color without being an irritant to the skin.
Some of the safest colorants for soap are from annatto seeds, alkanet root, and henna.
Plant Infusions
To make a plant infusion use powdered, chopped or ground leaves, flowers or roots of the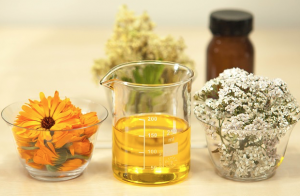 plant.  Pour boiling water over your plant material and let it sit over night and then strain it, the liquid can be used in place of water that you add your lye to.
Colors can be really different but if you are not worried about having a difference from one batch to the next, then go ahead and give it a try.
If you are getting your color from the roots or bark of a plant, it is better to pour water over and bring to a boil and simmer for about 15 minutes.
Then cover and let it steep for another 15 minutes and strain.
You can then use this in place of the water you would normally use to add the lye to.



Plant Oils
Some of the oils that you use in soap making can also provide color to your soap, Olive oil can give you a light green color, Coconut oil gives a white or off white color, and Hempseed oil will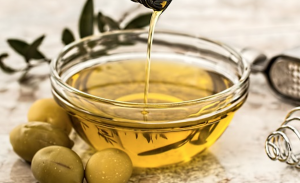 give your soap a brown color.
Other oils that will lightly tint soap are Castor, Palm, Wheat germ and Olive Oil.
Some Essential oils will not only scent your soap, but color it as well.  Lemongrass, patchouli, Orange five fold, cassia bark and vanilla absolute come to mind.
Vegetable compounds can also give soap a nice natural color, chlorophyll will give you soap a shade of green, tomato will give a shade of red.
Spices and Herbs
Cinnamon, cloves, nutmeg and allspice are some spices used to color soap; they will give a light to dark chocolate color.  Cayenne pepper and Paprika will give a s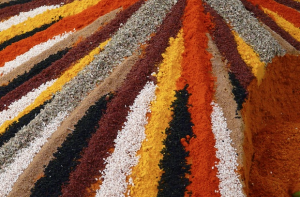 almon color and Turmeric and Curry powder will give shades of yellow.
Experiment with these colors and add what you need for the desired color.
With spices it's a good idea to mix them with some oil first because it may clump up if you were to just put it in with the soap.
I mix it with Olive Oil and then add to my pot after I've poured the lye/water mix in with the oils.



Colorants and Soap making
Alkanet Root – depending on the alkalinity of the soap this root will color your soap differently, if you soap has a PH of 6 – you will get shades of red, PH of 8 shades of lavender and a PH of 10 will give you shades of blue.
Annatto Seed – this will produce rich shades of yellow and orange, but these colors will fade if your soap is left in direct sunlight.  So keep the soap away from the sun.
Beetroot Powder – you would think this would color your soap beet red, but it will instead give you more of a yellow squash color.
Black Eyed Susan – the stems and leaves will give you gold- orange tones and the flower will color tones of green.
Calendula Blossoms – Calendula blossoms can be ground up and added to your soap to produce yellow – orange colors depending on the blossoms.
Cocoa – shades of brown
Goldenrod – added to your lye solution fresh goldenrod flowers will color your soap light yellow
Madder Root – Madder root powder added to your soap will give a pink – red color
You may also want to read What to color my soap?
#handmadesoap #naturalsoap #makingsoapnaturally #soapmaking #soapmaking #soaps #artisansoap #bathandbody #cpsoap #coldprocesssoap #etsy #soapbase #soapcrafter #soapmaker #soaping #soapcrafting #soaphandmade #soap #giftidea #christmas #barsoap #handmadesoap #natural #organic #skincare #coldprocess #soapsupplies #colorsoap #whattocolorsoap #colorsoapnaturally
© 2017 – 2019, Tes. All rights reserved.