Coconut Oil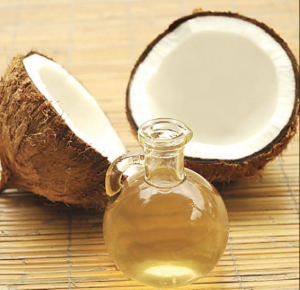 Coconut oil is a great natural oil that has antibacterial, antiviral, antioxidant and anti-inflammatory properties.
The finer the grade of oil the better the properties.  100% raw cold pressed virgin coconut oil has the finest grade.
Skin Care: Coconut oil is an effective oil when it comes to repairing damaged skin, its moisturizing properties will help moisturize even the driest skin.
Unlike mineral oil that will clog the pores leaving the skin unable to breath, this oil will allow the skin to breath and is safe to use in the prevention of dryness and flaking skin.
Coconut oil can help to reduce the signs of aging by moisturizing and smoothing wrinkles and fine lines and is known to help in the treatment of skin conditions such as Psoriasis, dermatitis, eczema and other skin infections and is one of the basic ingredients for many body care products such as creams, lotions and soaps.

Nature's Bounty Coconut Oil, Moisturizing Embollient For Dry Skin and Hair, 207 ml
Coconut oil can help repair damaged skin and can also be applied to infections, it will form a layer that protects the infected body part from external dust, air, fungi, bacteria and virus.
This natural oil is very effective on bruises as it repairs damaged tissue and speeds up the healing process. I have found coconut oil also to be very effective in reducing swelling.
For your hair, coconut oil is one of the best natural nutrients for your hair, it will help improve the growth of hair, just massage your head with this oil and you will notice the difference in no time.


Coconut Oil Hair Mask Conditioner – Sulfate Free Deep Conditioning Hair Treatment for Dry Damaged Hair Care 100% Natural Moisturizes Repair Restores Hydrates & Nourishes Scalp Growth Masks Packaging May Vary
Coconut oil will help repair damaged hair and encourage re-growth while nourishing  and conditioning the hair and scalp.
Finally, nutritionally, coconut oil is the preferred oil to use for athletes and body builders and by those who are dieting.
The reason for this is because it contains less calories than other oils, and its fat content is easily turned into energy and it does not accumulate fat in the heart and arteries.
This oil helps in boosting energy and endurance, and enhances the performance of athletes.



The reason coconut oil for repairing damaged skin works so well, is the fat…..

The saturated fats  in this tropical vegetable oil are not harmful as is the case in other vegetables oils. It does not lead to increase in LDL levels.
It actually helps to reduce the incidence of injury in arteries and therefore helps in preventing atherosclerosis.
Weight Loss: Very useful in reducing weight. It contains short and medium-chain fatty acids that help in taking off excessive weight. It is also easy to digest and it helps in healthy functioning of the thyroid and enzymes systems.
Coconut Oil also helps to increase the bodies metabolism by removing stress on the pancreases, thereby burning out more energy and helping obese and overweight people reduce their weight. This may be partly why people living in tropical coastal areas, who eat coconut oil daily as their primary cooking oil, are normally not fat, obese or overweight.
Digestion: Internal use of this rich oil occurs primarily as cooking oil, helping in improving the digestive system and thus preventing various stomach and digestion related problems including irritable bowel syndrome.


The saturated fats present have anti microbial properties and help in dealing with various bacteria, fungi, parasites, etc., that cause indigestion. Also, this natural oil helps in absorption of other nutrients such as vitamins, minerals and amino acids.
Immunity: Great for the immune system. It strengthens the immune system as it contains antimicrobial lipids, lauric acid, capric acid and caprylic acid which have anti fungal, antibacterial and antiviral properties.
The human body converts lauric acid into monolaurin which is claimed to help in dealing with viruses and bacteria causing diseases such as herpes, influenza, cytomegalovirus, and even HIV.
It helps in fighting harmful bacteria such as listeria monocytogenes and heliobacter pylori, and harmful protozoa such as giardia lamblia.
Healing: Coconut oil for repairing damaged skin can also be applied to infections, it forms a chemical layer which protects the infected body part from external dust, air, fungi, bacteria and virus.
A natural oil that is most effective on bruises as it speeds up the healing process by repairing damaged tissues.
Infections: Known to be very effective against a variety of infections due to its anti fungal, antiviral, and antibacterial properties.
According to the Coconut Research Center, this oil kills viruses that cause influenza, measles, hepatitis, herpes, SARS, etc.
It also kills bacteria that cause ulcers, throat infections, urinary tract infections, pneumonia, and gonorrhea, etc.
Coconut oil for repairing damaged skin in a cosmetic sense is also effective on fungi and yeast that cause candidiasis, ringworm, athlete's foot, thrush, diaper rash, etc.
Bones: As mentioned earlier, this oil improves the ability of our body to absorb important minerals.
These include calcium and magnesium which are necessary for development of bones. Thus very useful to women who are prone to osteoporosis after middle age.




#handmadesoap #naturalsoap #makingsoapnaturally #soapmaking #soapmaking #soaps #artisansoap #bathandbody #cpsoap #coldprocesssoap #etsy #soapbase #soapcrafter #soapmaker #soaping #soapcrafting #soaphandmade #soap #giftidea #christmas #barsoap #handmadesoap #natural #organic #skincare #coldprocess #soapsupplies #coconutoil
© 2017 – 2019, Tes. All rights reserved.