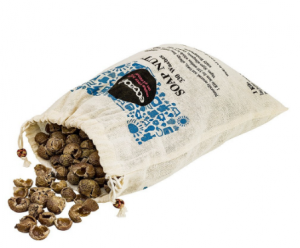 First what are Soap nuts?  They are actually a fruit and contain large amounts of saponins in their shell.
Soap nuts, also known as soapberries, washing nuts and wash berries are from the Sapindus Tree these trees grow in India and Nepal.
Ecozone Soap nuts – Indian Wash nuts – replaces laundry powder and detergents – great value 1kg bag – up to 330 washes
The Pros
Natural
Biodegradable
Petroleum Free
Reusable
Safe on delicates
Mild enough for babies clothes and diapers
No skin irritations
The Cons
Need hot or warm water
Have to pre-treat stains
More time consuming
Soap nuts do not have chemicals like the detergents, so they do not whiten whites, but you can add some borax to your whites to do that.
I think the pros outweigh the cons because soapnuts do things naturally that detergents don't.  Washing with soap nuts I find my clothes are softer, and I rarely get eczema flare ups.
To me there are healthier and safer, so if my whites are not as white as they should be I don't mind.  If I do I add borax or baking soda to my wash.



You can also try using soap nuts in cold water – to do this I soak them in hot water for 10 minutes to steep.  I also add a few drops of lavender for a nice scent.
Soap nuts are truly non-toxic and the best laundry option I have found for sensitive skin, next to grating Olive Oil Soap and adding water.  These nut are very affordable and will do more than one wash, with no suds they do not leave any residue in the washing machine.


Avalon Bay EcoWash Portable Non-Electric Washing Machine
Using them is easy just plop 5 or 6 of them into a muslin bag and place in the washer if you are using hot water.  If not then soak the nuts in the bag in hot, hot water for 10 minutes and then put the tea and the bag in the washer with cold water.
You will find no skin irritation and your clothes will be much softer.
Below are some mini washing machines for the dorm or the summer cabin.  They range in price from $75.00 to $269.99.  All electric except for the Avalon Bay which would be a great machine for the summer cabin and very reasonable priced at $75.00.




#handmadesoap #naturalsoap #makingsoapnaturally #soapmaking #soapmaking #soaps #artisansoap #bathandbody #cpsoap #coldprocesssoap #etsy #soapbase #soapcrafter #soapmaker #soaping #soapcrafting #soaphandmade #soap #giftidea #christmas #barsoap #handmadesoap #natural #organic #skincare #coldprocess #soapsupplies #soapnuts #laundrysoap
© 2016 – 2019, Tes. All rights reserved.